Bruce Thomas Memoirs "Rough Notes"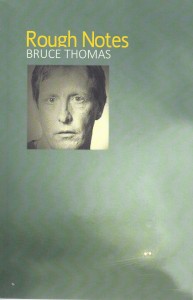 Most that know me, know that I'm a huge Elvis Costello and The Attractions fan. I first saw the group on SNL in 1977 and was quite impressed by this scrappy combo, and especially by the bass player, who appeared (on my small TV) to be quite young, but really man-handled his Fender Precision.
Once I heard "This Years Model" I was hooked and the next eight albums consistently occupied my turntable.
For me as a bass player, his work has influenced me more than any other.
Bruce says:
It follows my career from the paper-round I did to buy my first guitar, and see the Beatles — all the way through to the Rock and Roll Hall of Fame …and beyond.
Obviously a major part of the book recalls my time as an Attraction. There are the background stories to all the albums we made — which answer a lot of the questions I've been asked on here over the years — and there's even a wee bit about bass playing for those who want to know about that. And, I hope, it finally sets the record straight about the so-called 'feud' between me and 'the Singer'.
There are also accounts of working with Paul McCartney, traveling on Elton John's private jet, spending a day at Johnny Cash's ranch, having dinner with Yoko Ono — as well as my brief encounters with the likes of Michael Jackson, Bob Dylan, Bruce Springsteen, Abba, Howling Wolf, John Lee Hooker, Mick Jagger, Jimmy Page, the Who, Freddie Mercury, Pink Floyd, Rod Stewart, Eric Clapton, John Belushi, Michael Hutchence …and a certain Jimmy Savile.
But Rough Notes is far more than a personal memoir or catalogue of trivia — it also traces the entire story of rock and pop from its very beginning, right through to the present …despite the fact it's sometimes been said that writing about music is like dancing about architecture.
Yes, there is only one history of rock and pop …but we were all there.
Available at Amazon  Check out his website for all things BT including the Profile Bass: brucethomas.co.uk